Climbing trip to Tafraout
Categories: Blog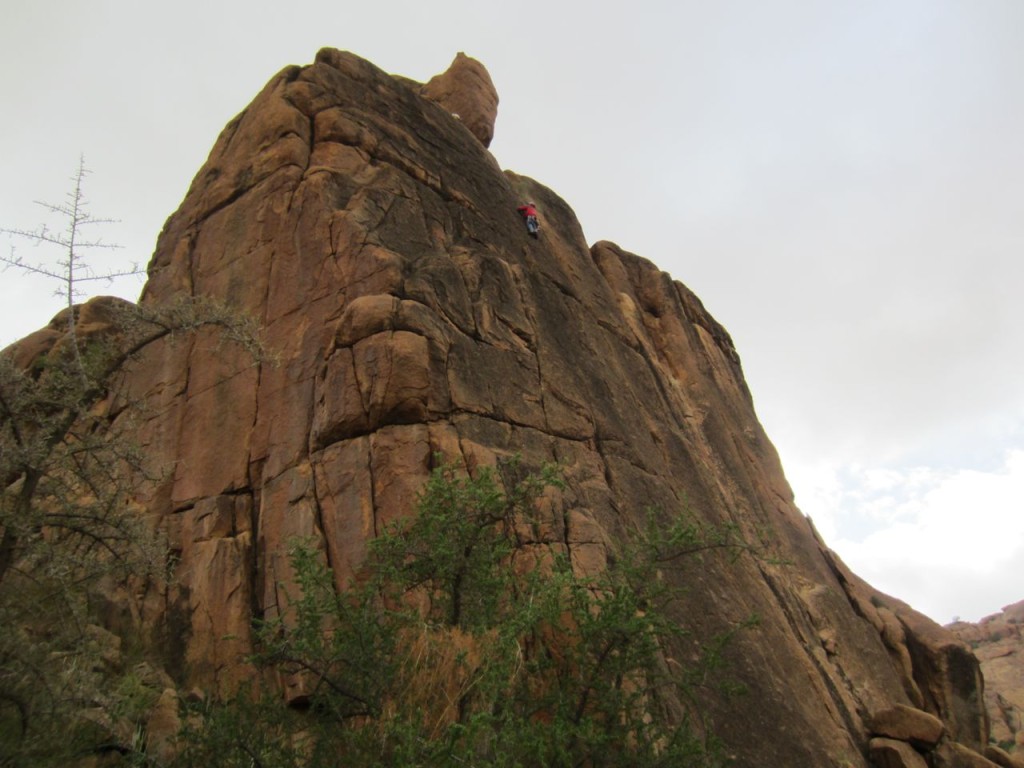 Some of us recently traveled south to the Tafraout area for a couple of days of climbing. The area of Tafraout is normally a magnet for adventurous trad climbers from Europe in the winter who hope to escape the cold weather at home and climb in the warm sunshine of southern Morocco. While we were in Tafraout, unfortunately there were some unusual storms and rain that descended on the mountains and all of the climbing areas on Jebel El Kest. Although we would have loved to get a taste of the huge amount of quartzite traditional climbing around Jebel El Kest, we stayed around the town of Tafraout due to the weather and got to sample some of the great sport routes and slab climbs.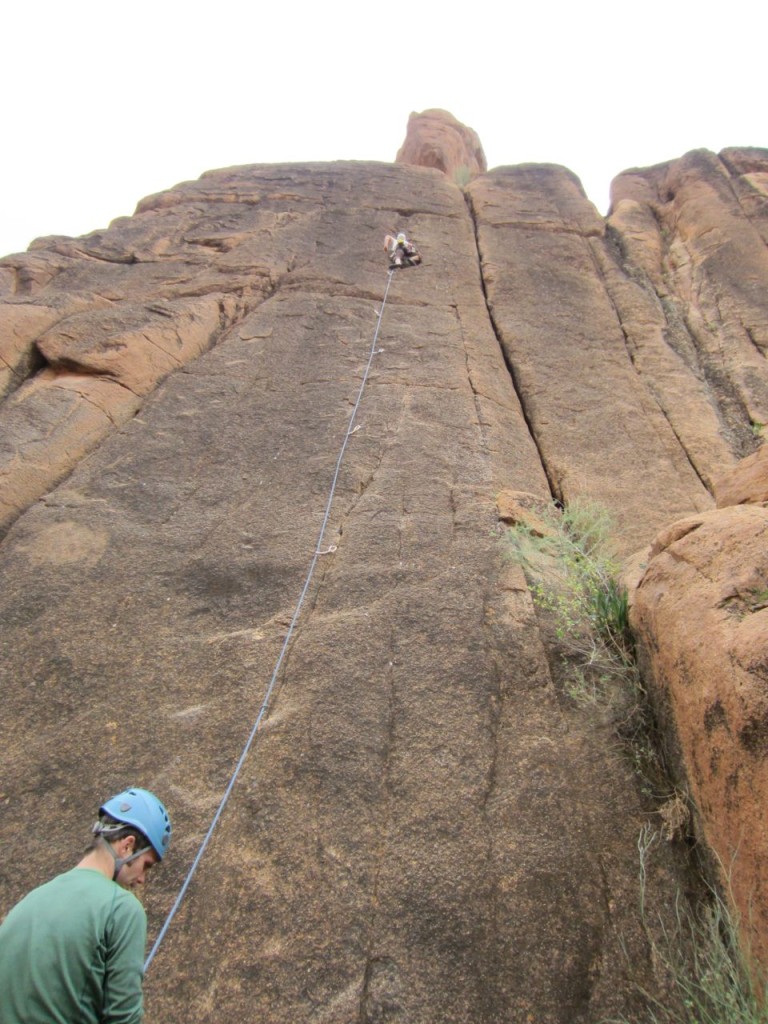 There are some good slab climbs on Black wall including this one pictured above.  Just beware that a number of the climbs have either old or missing bolts and some of the anchors no longer exist.  You have to use some creativity to get off of Black wall without leaving too much gear behind.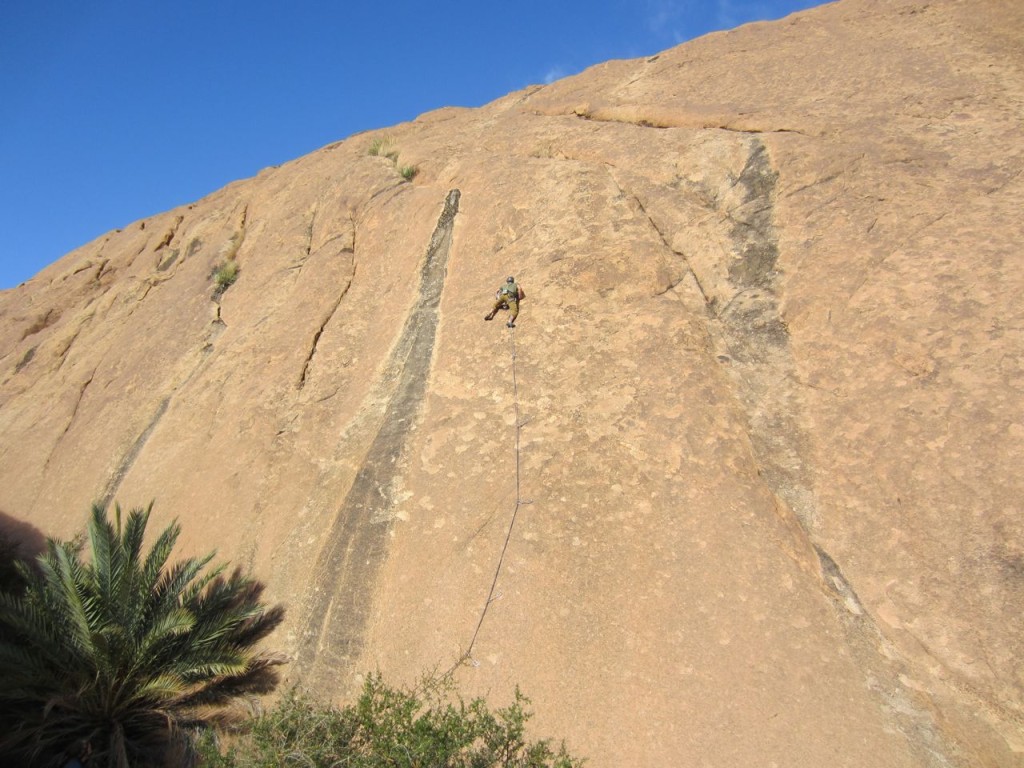 This is a fun 6b+ route on Yelmo Carpantónico & Cancho del Perro called "Fender Stratocaster" with lots of frictiony balancing and tiny crimpers.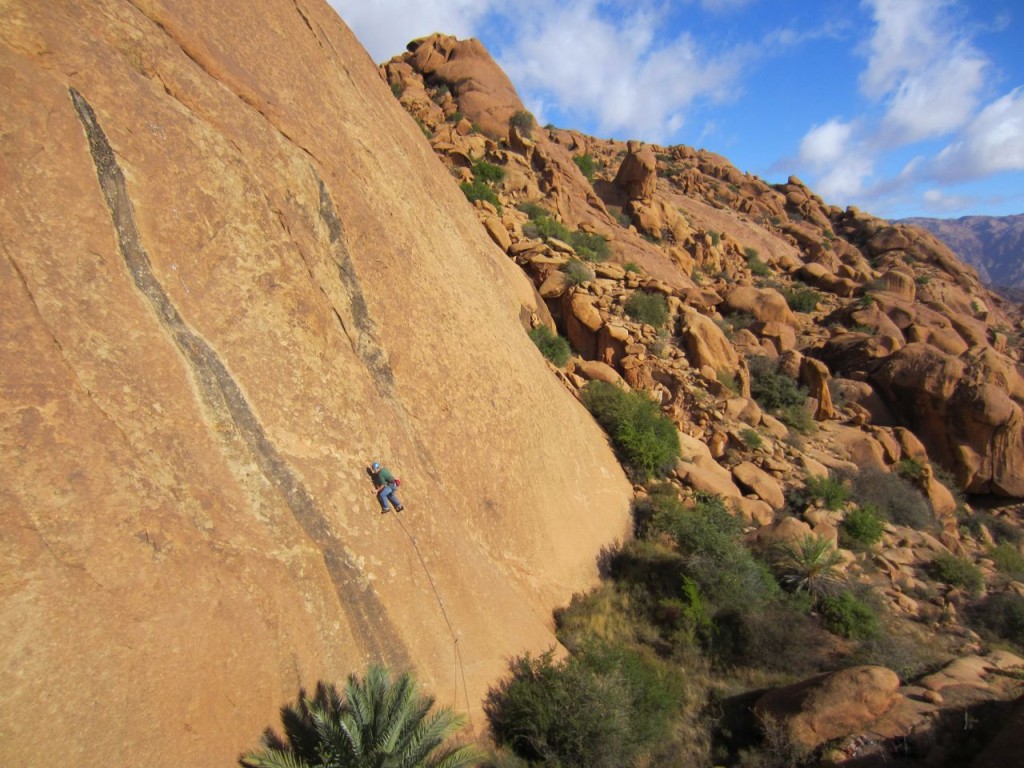 There are a couple of multi-pitch routes on this wall as well due to it's size and it requires just a short hike in from the road.  Another great route we had time for was a slabby and delicate 6c+ called Kie-13 on the far left side of the rock.
We also visited the very unusual and surreal painted rocks that lie some ways outside of the town on a small dirt road.  The original rocks seem to have started a trend as there are now rocks of different colors painted all over the area.  There are a number of climbs recorded on and around these rocks as well as a 2 pitch trad route that follows a crack right up the middle of one of the largest blue rocks which we didn't get a chance to try.
This is truly a spectacular area to visit for the scenery alone, not to mention the endless climbing available in the area.  Above is the picturesque Kasbah Tizourgane that can be seen on the road with the beautiful anti-atlas in the background.  We are excited to return to experience some more of the climbing that the Jebel El Kest area has to offer. Sport route information for around Tafraout can currently be found at http://tafraoutclimbing.blogspot.com/ and the best place for info on the climbing on Jebel El Kest can be found at www.climb-tafraoute.com or in the Moroccan Anti-Atlas North Guidebook by Steve Broadbent.