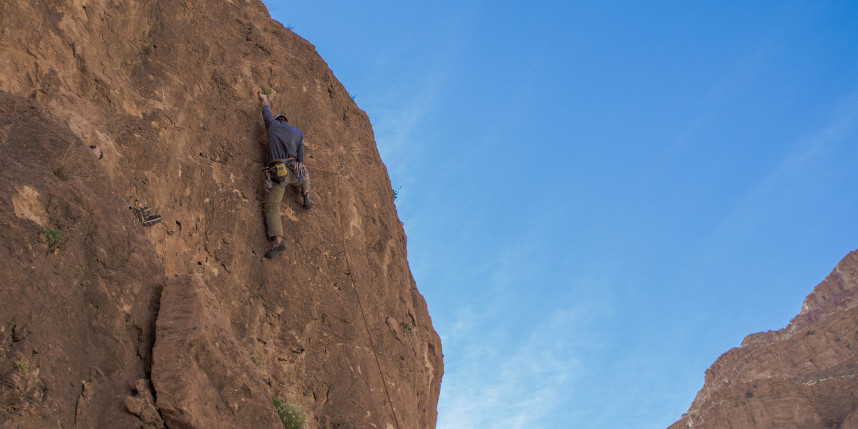 What to Expect
Are you interested in rock climbing for multiple days while in Morocco? We think that a focused climbing trip to Morocco is a fantastic idea and we are more than happy to guide you in a number of locations or for multiple days. If you are looking to rock climb in a breathtaking climbing venue with endless routes challenging you at all levels, look no farther than the Todra Gorge! The Todra Gorge is an exotic canyon in the High Atlas Mountains and holds over 1200 rock climbing routes. The only thing that could take your mind off the incredible view is the amazing climbing on solid limestone this gorge has to offer. This is an adventurous and interesting climbing destination with rock climbing for all different levels from beginners to experienced climbers. Climbing trips anywhere from 2 to 5 days in the Todra Gorge are highly recommended in order to get a taste of what the area has to offer.
Perhaps you would like to stay closer to Marrakech? If so, we can plan a multi-day trip to Ain Belmusk, Zuhelika, or both. The climbing is great and the setting is unforgettable in both venues and you will be no more than 2 hours away from Marrakech. We're happy to arrange a climbing adventure for all levels of climbers catering to your timetable and expectations. You will be glad to have a Climb Morocco guide with you to really maximize your time climbing in Morocco. Let us guide you and help you either plan your multi-day Moroccan rock climbing holiday or help you fit a couple of days of rock climbing into your existing trip.
Details:
You choose how many days you would like to climb
Guiding, climbing gear, and instruction provided
Potential to climb in multiple locations
Todra Gorge, Ain Belmusk, Zuhelika, or Oukaimeden
Help with planning and arranging logistics
All climbing equipment, training and instruction is provided by guides with professional, internationally recognized climbing certifications and wilderness medical qualifications.
Type of Climbing:
10 to 35 meters high, single pitch climbing.
Top rope, sport climbing, and bouldering
Beginners, Intermediate, and Advanced climbers
Ready to get started?
Contact Us