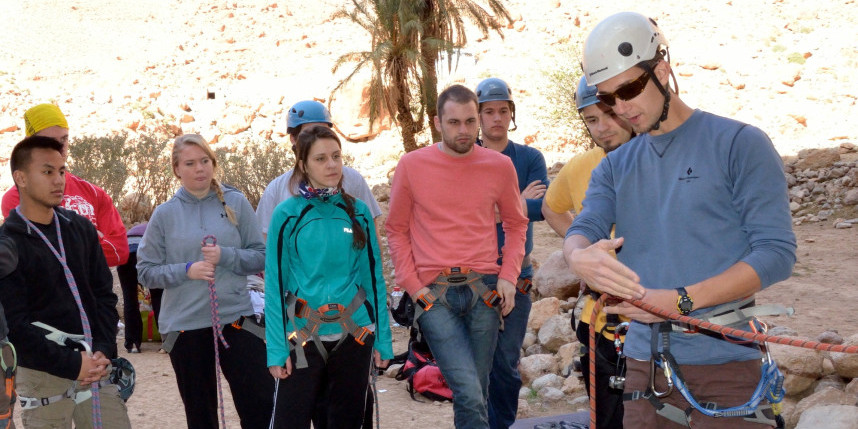 What to Expect
Never rock climbed before but always thought it would be something you would love to try? Looking for a unique and thrilling experience during your Moroccan holiday? You have come to the right place. The Climb Morocco "Learn to Climb" course provides you with the opportunity of a lifetime! Not only will you learn the essential skills needed to rock climb, taught by our friendly and experienced guides, you will learn and rock climb in Morocco! What a unique memory and story to share with your friends and family. We will provide you with the needed gear and instruction and an opportunity to climb in a beautiful climbing location in Morocco. Most of our "Learn to Climb" day trips take place at Oukaimeden (1 1/2 hour from Marrakech) in the High Atlas but can also be arranged in Zuhelika (2 hours from Marrakech). You won't want to forget your camera!
What will you learn? You will begin by learning about rock climbing equipment and important safety procedures, checks, and commands while climbing. You will then learn some important basic rock climbing knots as well as the basics of belaying a rock climber. Rock climbing movement and technique will then be taught and then you'll get the opportunity to put everything you've learned into practice by tying into the rope and climbing high on the rock. All of this in a safe and encouraging environment where you're encouraged to ask questions and where there are plenty of backups and precautions to ensure confidence and a good time. Spend the rest of the day continuing to learn and enjoying rock climbing in the beautiful Moroccan countryside.
Details:
Meet and Depart from Marrakech in the morning.
Leave Climbing Location between 3:00pm – 4:00pm (arrive Marrakech around 6:00pm)
Guided Rock Climbing and Instruction
Day of climbing at Oukaimeden or Zuhelika
All climbing equipment, training and instruction is provided by guides with professional, internationally recognized climbing certifications and wilderness medical qualifications.
Type of Climbing:
Single Pitch Climbing
Top Rope Climbing
Great for Beginners
Ready to get started?
Contact Us