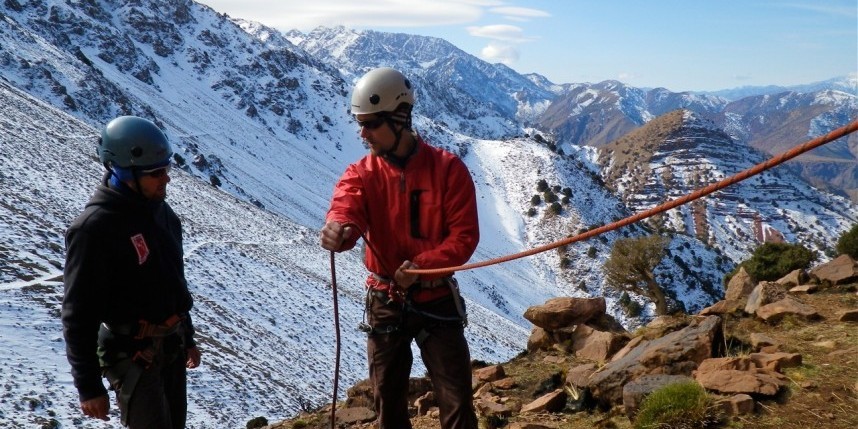 What to Expect
Our day trip offers an excellent rock climbing experience that fits great into any Moroccan vacation or holiday. Just two hours outside of Marrakech, you will find yourself climbing in the picturesque, miniature gorge of Ain Belmusk, or the beautiful, hidden treasure of Zuhelika, both tucked away next to quiet Moroccan villages off the beaten path. Or if you prefer higher elevations and mountain peaks, you will climb high at Oukaimeden, taking in the breathtaking views. From beginners to advanced climbers, these are great venues to learn to climb for the first time, or to get a serious workout challenging yourself on a harder route, climbing over a small river or high in the High Atlas. Our guides will guide you on climbing routes that meet your desired expectations and will work hard to provide a satisfying experience. We are happy to help with your logistics and will provide all the gear needed for a fun day of climbing, guiding on location, and if desired, instruction in basic climbing movements and skills.
Details:
Meet and Depart from Marrakech in the morning
Leave Climbing Location between 3:00pm – 4:00pm (arrive Marrakech around 6:00pm)
Day of Guided Climbing in the Location that best meets your climbing desires
All climbing equipment, training and instruction is provided by guides with professional, internationally recognized climbing certifications and wilderness medical qualifications.
Types of Climbing:
Single Pitch Climbing up to 110 feet (33 meters) – Zuhelika
Top Rope and Sport Climbing
Oukaimeden great for Beginners
Ready to get started?
Contact Us