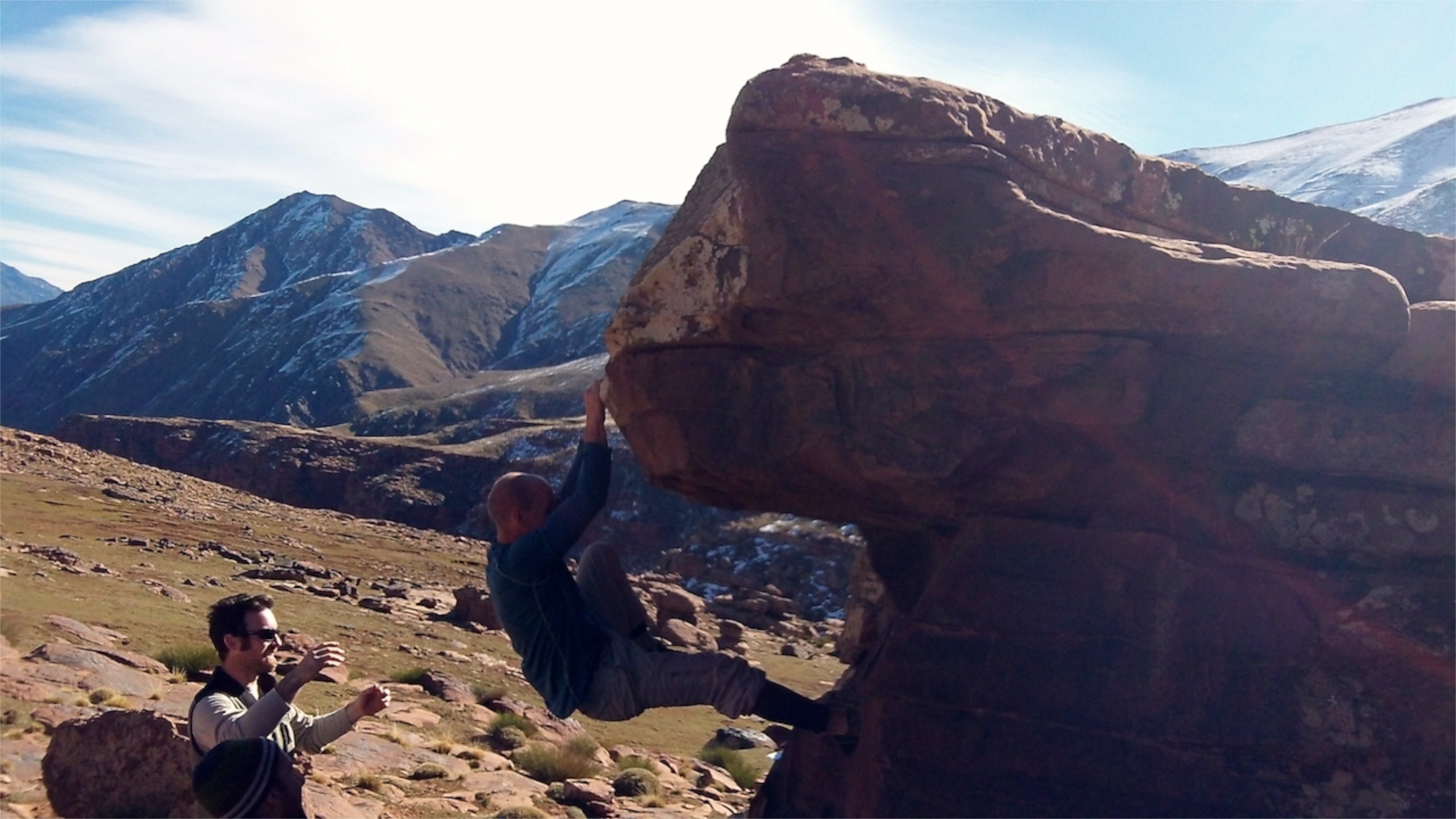 Rental, Logistics and Guiding!
For those that love bouldering and are interested in exploring new areas and developing new boulder problems in the High Atlas Mountains, our bouldering package is for you. It will help orient you and take care of the logistics to get you climbing and exploring in the huge boulder fields in Oukaimeden without all of the hassle and uncertainty of doing it on your own. Instead of oversize luggage fees and traveling with a boulder pad, you can rent one from us as well as shoes and chalk if you'd like. Let us tell you what you need to know and help get you there with the equipment you need to have a great time bouldering in the beautiful High Atlas Mountains. 

Bouldering Pad Rental:!
Delivery of bouldering pad to you upon your arrival in Marrakech. (Rental requires a 500 MAD deposit which will be returned to you when you return the pad)!
Information on getting to Oukaimeden and other bouldering areas as well as directions and information on places to stay, transport etc.!
Option to rent climbing shoes and chalk bag as needed as well.!
Information on the bouldering areas and directions to get you to the climbing as well as local information.

Logistics Package:!
We can make the transportation and lodging arrangements for you and you just need to show up, pick up your crash pad and take your transport up to Oukaimeden to start bouldering in the High Atlas Mountains.!
We recommend and book your rental car for you or arrange other private transport for you of your choice. !
We contact and make a reservation for you at the Club Alpin Francais Refuge or Dar Toubkal in Oukaimeden.!
Guided, Bouldering Day Trip:!
An all-inclusive and guided bouldering trip to Oukaimeden. A certified climbing guide and a professional transport with driver will pick you up and take you to to the mountains for a full day of bouldering. Includes boulder pads, shoes, and chalk and a guide with you all day to climb with and lead you to the boulder problems that are perfect for you and then return you to Marrakech at the end of the day.